Enjoy tax free shopping with PIE VAT app at AQUACiTY ODAIBA and Complete your tax refund at PIE VAT Station (Tax Free Counter)
No forms

No Lines

No hidden fees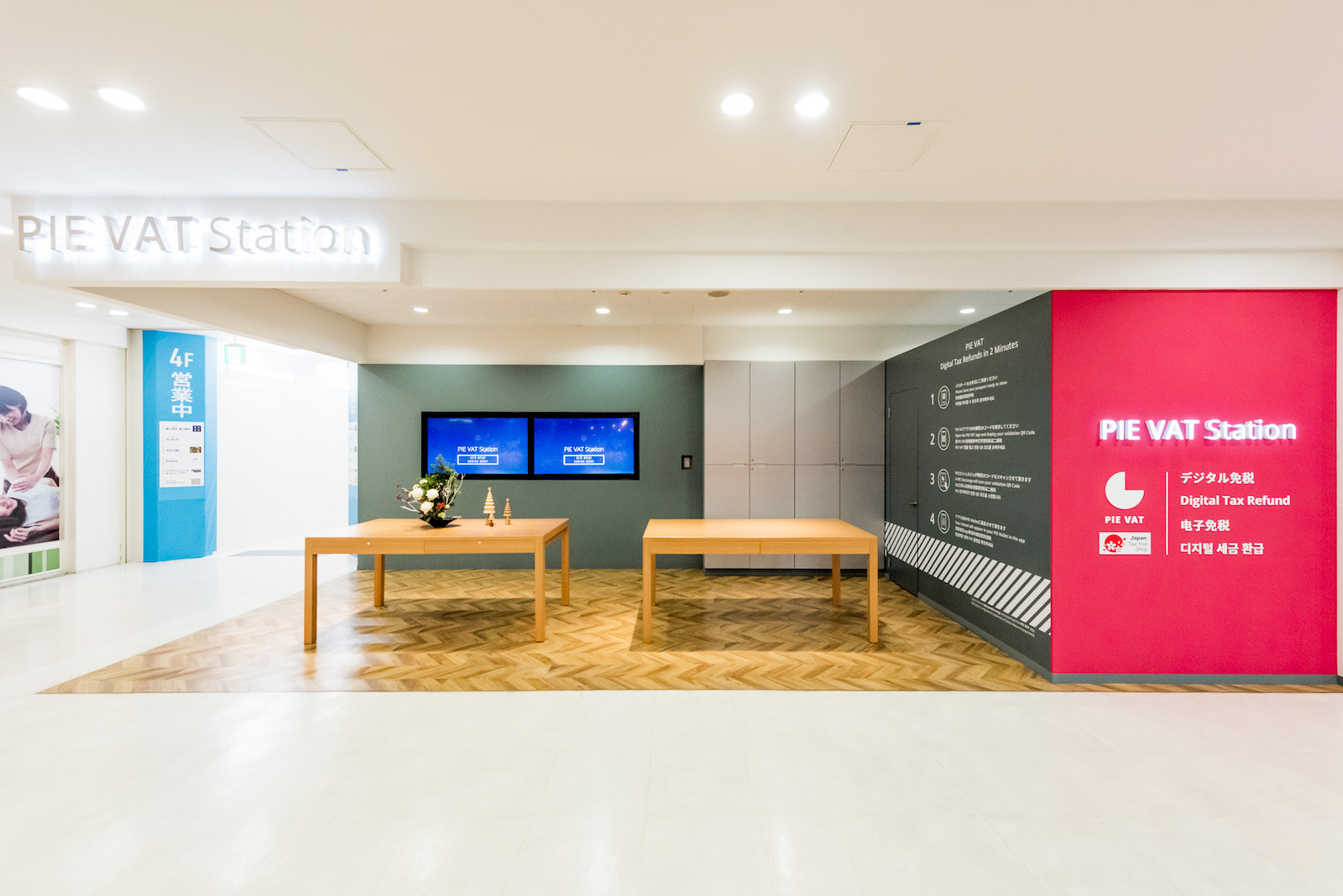 Easy way to complete tax free refund contactless
How PIE VAT app works: Complete your tax refund digitally
Enjoy shopping at AQUACiTY ODAIBA PIE VAT partner stores 
Step 1. Shop at AQUACiTY ODAIBA PIE VAT partner stores and pay an amount including tax
* Total purchase amount must be at least 5000 JPY (excluding tax) from PIE VAT partner stores in the same shopping mall on the same day
Before visiting PIE VAT Station
Step 2. Download PIE VAT app, scan the QR code from the store and start refund request on the app
*Highly recommended downloading PIE VAT app before visiting the mall
Visit PIE VAT Station
Step 3. Visit PIE VAT Station located on 4th floor of AQUACiTY ODAIBA
Tax refund eligibility
* You must not be a resident of Japan
* You entered Japan within the last 6 months
After visiting PIE VAT Station
Step 4. Refund after the service fee (1.5% of total amount excl. tax) will be available on PIE wallet on the app once approved

Withdraw tax refund
Step 5. Set your withdrawal method on
PIE VAT app and withdraw your refund.

Your refund will arrive your bank account or credit card within 2 - 5 business days
Visit PIE VAT Station (Tax Free Counter) located at 4th Floor of AQUACiTY ODAIBA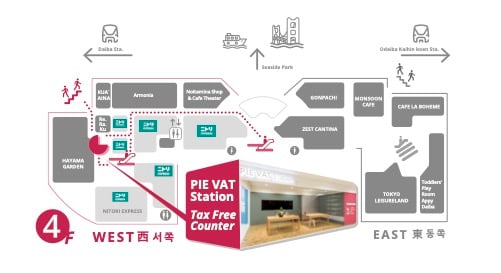 PIE VAT Station at AQUACiTY ODAIBA is located in Minato-ku, Tokyo
PIE VAT Station, AQUACiTY ODAIBA is located in Odaiba, Minato City, Tokyo.
AQUACiTY ODAIBA is a shopping complex located in Odaiba, Minatoku, Tokyo. It boasts more than 80 stores and a wide variety of restaurants, ranging from Japanese to Italian cuisine. Additionally, visitors can enjoy the "Local Ramen Festival," where they can try a variety of ramen dishes from different regions in Japan. The sidewalk offers a stunning view of the Rainbow Bridge, the Statue of Liberty, and the Tokyo skyline. A multiples cinema complex with top-notch audio and visual systems is also available.
On the 7th floor of AQUA CiTY ODAIBA, visitors can find the AQUA CiTY ODAIBA Shrine. It has received a divine spirit from the Shibadai-jingu Shrine.
Lastly, don't forget to visit the Tax Free Counter "PIE VAT Station" to complete your tax refund. Our friendly staff will be happy to assist you!
Notice
Important Notice
You must visit PIE VAT Station before you leave from Aquacity





Tax-free goods must be exported by yourself. You are not allowed to transfer or consume the tax-free goods in Japan





Tax-free goods cannot be purchased for business, commercial or resale purposes





Please present your passport and the purchased goods at customs upon departure





If you do not possess the tax-free goods upon departure, you have to pay the consumption tax at customs.
Why do I need to visitPIE VAT Station?
Japanese regulation requires us to verify your original passport and purchased items to process your tax refund on the day of the purchase. Please do not forget to visit PIE VAT Staion before you leave from Aquacity.
Why do I need to submit my personal information on PIE VAT app?
This information is required by the National Tax Agency in Japan to process tax refunds. PIE VAT is a licensed authorized transmitter of this information. PIE uses industry standard security to ensure data is stored and transmitted securely.